I was visiting Gdansk for reasons other than urbex, but couldn't resist slipping into the famous shipyards where Lech Walesa and the Solidarity movement had their stronghold. We had a walk around in the afternoon and spotted a likely entry point. I had done a bit of research and found that the yards are due to close in May 2009, so assumed there would be not much action on site and we should be able to bob about with no hassle....oops!
This is one of the older gates, amazing signage and wear.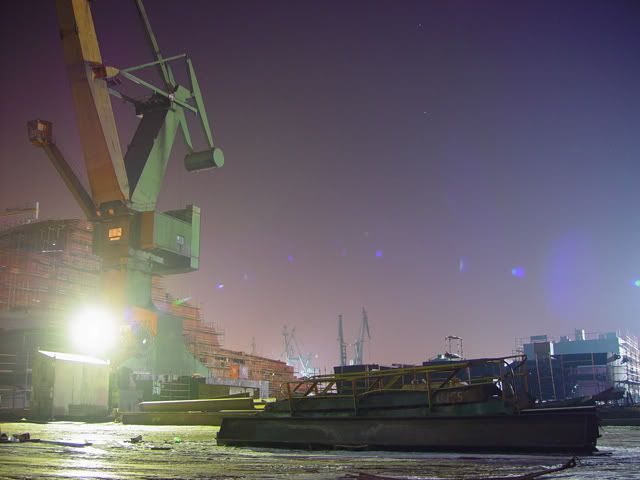 First shot after getting in, fortunately I got my settings right pretty fast, as we weren't going to get many chances for photos.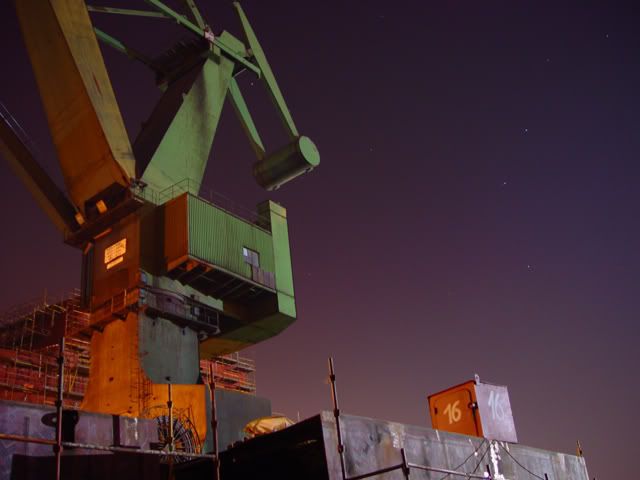 Crane and stars
At this point we headed for a tunnel with lights beyond it, the blues were amazing and it was drawing us in for the shot.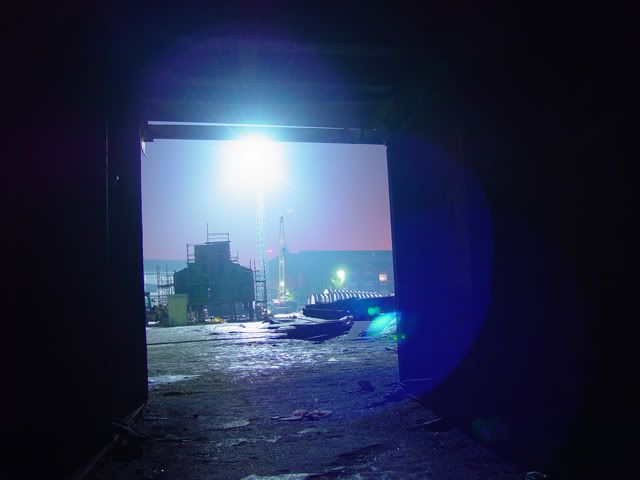 A bit wonky on the tripod, but great colours.
Right after this we were spotted by two workmen, my two mates legged it up a gantry and I hid in the shadows. I froze for about two minutes and then saw a figure panning a camcorder and stopping on my position - infrared - no chance.
I walked out smiling and said hello, he gestured to follow him, we walked up the gantry that my mates had run up and into a portacabin with three more guys and my mates! They were totally bewildered about what we were doing and none of us could speak any Polish, we tried to walk away but they stood in our way and it started looking shady. They kept calling us paparazzi! After a few minutes one of the guys gestured to follow him again and we were put in a transit, hoping desperately to just be driven off site our hearts sank as we were taken to the main security office.
Once inside we showed them our shots, of which we were duly proud...my mate handed over his passport and the guard took the number down. While this was happening I looked at the monitors and they had full infrared coverage of the whole site and must have spotted us doing comedy sneaking about before they busted us! Anyway, I guess they were satisfied that we were just stupid and showed us to the gate...we walked away feeling a bit sheepish and very lucky.
I snapped another picture on the way to the pub from the 'yard, it just shows the contrast between the 'heritage' and the 'industrial' bits of the city. There is loads to go at besides the shipyard, I was only there for 2 days, but it's a top little city.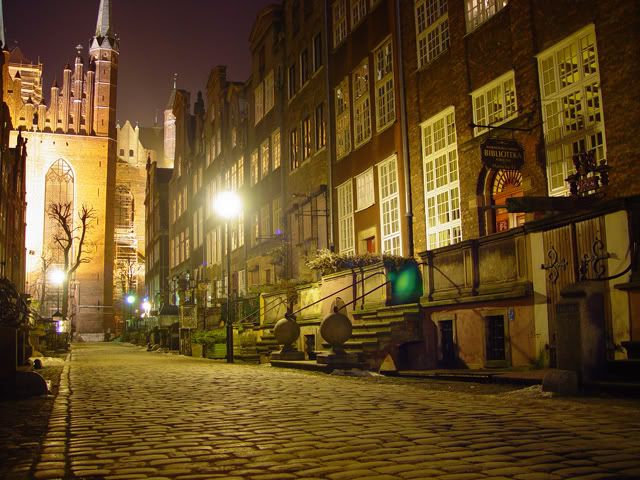 Heritage, rebuilt after WWII.
Day 2 took us to Westerplatte, the site of one of the first battles of WWII, various remnants of WWII, Cold War and a huge monument to the fallen Polish soldiers.